Partnership Deed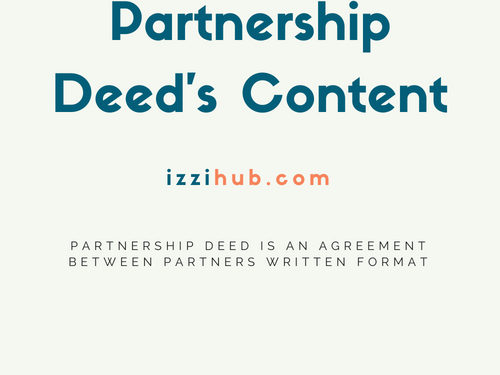 What is Partnership  Deed
Contents of partnership deed helps for formation and regulation of partnership business. As you know partnership can be made in oral form, but always it is recommended that every agreement should be in written form for better resolving the issue (if any occur in future). Deed should be on the legal papers with proper attestation and be completing the basic requirement of law.
Basic Contents of Partnership deed.
1-Commencing and operating Date: In Deed, it should be mentioned when the agreement is being made and the starting date of partnership.
2-Name of business, Trade name should be decided by all partners with their consent. The name should be that which is non-registered.
3-Objective and nature business, the Basic objective is to earn profit but how, what kind of business will be doing, Trading, manufacturing, profession and its nature. Also clarify what kind of trading, manufacturing or giving services.
4-Liability of the partner
s is unlimited in general partnership. however, if it is a
limited liability partnership
, at least one partners will be liable for all debts.
5-Profit and loss share which partners will get how many shares of profit and loss. it can be as per ratio of capital investment or mutually agreed shared.
6-Operation and manufacturing area, where will be head office and manufacturing of goods etc. place, city. and in case of necessary what action will be required.
7-Capital and financing, Should every partner invest the finance or some one's skill can be an alternative to capitalism. In the case of finance requirement how capital will be raised.
8-Partners Detail, How many partners will be, Their name and address, National Identity Number with father name.
9-Partner's Remuneration, In general cases partners, are not entitled to get the salary, however with agreement partner can assign extra duty and salary or commission paid for those services
10-Interest on Capital will be paid to any partner or not. That may happen in certain cases, that profit and loss is shared on an equal basis and agreed that if any partner invests more that equal investment of each partner he or they will get agreed percentage of interest on it.
11-Partners' Death, Accident, Insolvency, In case of death or insolvency, what actions will be required. Whether minor is accepted or will not be, and how to deal with an insolvent partner.
12-Any change in partnership: how to deal with any change in partnership, whether the consent required from all partners or a prescribed number of partners.
13-Bookkeeping and Auditing, for recording and updating the accounts, which system will be adopted, a single Entry System or double Entry System. Manual or via software or both. and from where an audit of accounts will be undertaken.
14-Insurance help in minimizing the loss. Whether avail this opportunity or not, if yes then from where and up to what level.
15-Dissolution procedure should also be prescribed in the deed. If it is a Particular partnership or Joint venture nature, then it will automatically be dissolved at the completion of project or time.
Contents of partnership deed can be more described in the agreement with the will of partners from avoiding any dispute in future.