Sole Proprietorship Characteristics Advantages & Disadvantages 2021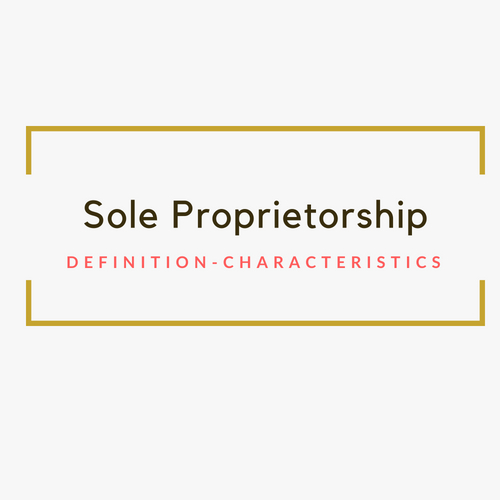 The simple and easy formation of business is the sole proprietorship. In this form of business, the owner is only one person, playing as one man show. It can be started over the night, at any moment without any legal procedure. However in some cases, you may need authority for a specific kind of business, Like medical Store, Dental Surgery, Chemical formation etc.
Sole trader ship is the oldest and first kind of business in history, with the passage of time there is a change
Definition: "sole proprietor is a type of business, where one person starts, run and owned business by investing whole and taking the responsibility for all risk and loss for the purpose of 100% profit.
Characteristics of Sole Proprietorship
Formation and Dissolution
are easy in this
kind of business
, because of no legal restriction. Almost any kind of business can be started by capital investment. A person starts with an idea and goal and starts the business anywhere. However, local authorities rules and regulation's approval may be required. For example for Medical Store license required, Name of business cannot be used, who is already registered. Areas of operation for trading,
and manufacturing. Same as formation, a business can be closed at any time. There are also no legal steps required.
Ownership only has one person, if required second, then it will convert into partnership. a single person is occupied with each and everything
of the business, Only he has the right over business assets. He can sell part of it or all at any time, without the consent of others.
Financing: Capital is the first step of business creation, without it the business cannot establish. however, in case of a shortage of funds or things, a person can borrow money, assets, Goods. Capital does not mean only cash but may be raw material, finished goods or assets.
Separate Legal Entity: as in the case of partnership or companies, sole traders has no separate legal entity, the person himself know as a business.
In another form of business, an entity is established by fulfilling the requirement of governing authorities, so they have a separate legal entity.
Risk and liabilities. In this type of business, the owner faces the whole liabilities, which means have unlimited liability. Liability may be an increase over the whole business value, and he has to pay all debts. Same time danger of all kind of risk also at the shoulder of the owner.
Profit and Loss is part of the business. At any stage ratio of Profit or loss may be beyond the expectation, then only the owner of the business will meet it. Here owner's interest of work is greater than in other types because he knows that by working hard more profit will be in his account as he has 100% share of it.
The size of the business usually is a small unit, anyhow it may be up to the average level (rare cases). for leading in specific industry they should move to another type of business. That is why the life of that business is limited. Because of limited sources of an owner, in decision making, managing matters and operation of
Business secrets are vital for the growth of the business. Here due to the one-man show, there is no danger of leakage. Owners themselves care about it.
Advantages of  Sole Proprietorship
Easy to form
Cost-cutting
No legal requirement
Security of Secrets
full share of profit
own Boss
Borrowing at own behalf
personality advantage
Devotion and Hardworking
Motivation
Easy to operate
Easy to take the decision
Safety of Ideas
Better utilization of own skills
Rare chances of Fraud
Disadvantages of  Sole Proprietorship
Lack of finance
Lack of Mind
UN-limited Liability
Debt raising issue
Limited skills
Legal Issues for expanding
A limited area of operation (Within the state, Province, Country)
The health of owners effect badly on the business