8 Important Advantages of Business Cards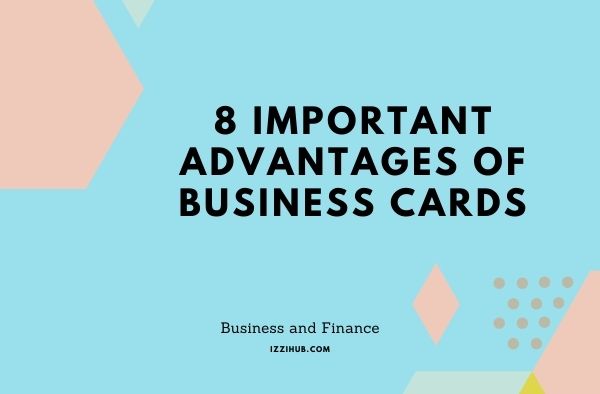 Modern technologies and the digital world have transformed how we make business connections. And do you think that in the age of LinkedIn, that business cards are still effective?
The answer to this question is yes, business cards are still effective. Because despite being a small tool in a business professional's armoury, business cards can have a tremendous impression on the success of your business or career even in this digital age.
However, what kind of impression your business cards make mainly depends on how much effort you put into their design and where you do business. And online printing in Canada is great with the business cards' printing requirements.
Moreover, here are a few reasons why business cards are important to you and your business:
 Cost-Effective Way to Promote Your Brand
Business cards are usually ordered in bulk, which makes their cost pretty low. Though the number you print is flexible, you can change the quantity depending on how many you are expected to use day-to-day. For instance, if you are heading to a trade show one month, you can alter your order at short notice.
Also, it is accessible to print for multiple people from the same organization but with different names, like your marketing team.
Therefore, make sure to print lots of cards to make sure that your employees are covered for various networking events and client meetings.
  Fantastic for Events and Exhibitions
Exhibitions and trade shows give you the great opportunity to advertise your brand and build your contact. Such types of events are perfect for making new contacts and making sales.
But many times, people go away thinking about how to buy or take things further, and this is where you should use your business card as invaluable, making sure your potential clients have your contact details, should they want to get in touch.
  Easy to Distribute and Display
Business cards can also bean inactive displays, so people can pick them up as they pass by.
You can display them anywhere, like:
Store counter-top
Pinned on the office noticeboard
Held in-display holder
Just make sure your name and company are visible while the card is on display.
  Perfect for Certain Industries and Jobs
Although, we live our lives with our laptops and smartphones by our sides. But sometimes only a physical business card will do. For instance, if you are working on the land, or at an exhibition centre with bad Wi-Fi or networks. Then:
Builders and landscapers can use business cards to pass on details when mobile signals fail
Plumbers and electricians use them to put their name in front of customers for an emergency issue
Street food stalls can use them as a cost-effective way to promote their brand on location
Remember Email Addresses for You
Names, phone numbers, and email addresses are all easy to forget. However, business cards can carry that information in one place for you, so you can recollect it long after meeting your potential client.
Moreover, they might even have used your card to create a contact on their phone or work email. And this is a great example that business cards and digital channels somehow correlate with one another.
  Leaves a Lasting Professional Impression
Nothing indicates professionalism more than a business card and a handshake after a meeting with clients, networking event, or completed job.
Not to mention, having a business card says a lot about you and your business. And when you give it over to a client, it represents that you are a responsible representative of your company or organization, which can leave a great lasting impression.
  Pocket-Sized to Carry at All Times
You can keep your business cards in your pocket, whether you are working or not because you never know when an opportunity will present itself. Small and compact, this promotional tool takes up barely any space but can help you benefit from unexpected opportunities.
Additionally, try to spend time on your card's content and design. Because that will give people:
A fair idea of your brand's identity
Your key messages framed as profits
The information they need to contact you
  Helps Visually Commit Your Brand to Memory
Cards allow you to be striking with your branding. Basically, cards are an opportunity for you to use strong visuals and graphics to promote yourself and your company.
So, it becomes important for you to be creative when designing your own artwork. Brand logos, pictures, and eye-catching colours to create a picture of your brand. A business card with a great design is a window into what your business provides and can help employ your business to memory.
So, what are you waiting for? Start looking for the best online printing in Canada to help you with your business cards, to make your business more successful.