What is Bad Credit Mortgage and How Can You Get It?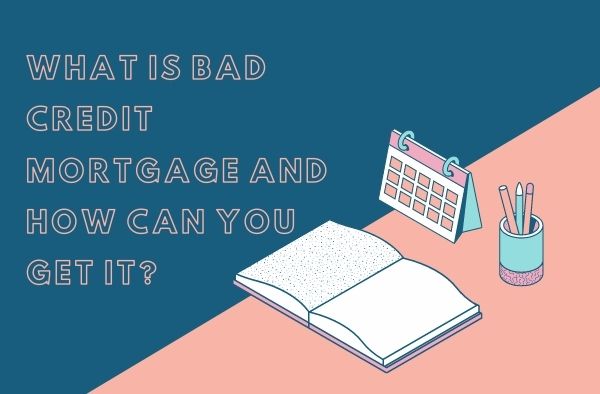 Though you will probably pay higher interest rates and might need to come up with a larger deposit, it is possible to get a mortgage with bad credit.
There are various mortgage plans for people with poor credit, and some lenders specialize in providing these. These types of mortgages are known as bad credit, adverse credit, or sub-prime mortgages.
But keep in mind that you should only get a mortgage if you are able to pay the monthly repayments. Because you may lose your home if you can't keep up with them. And to get these mortgages, all you have to do is look for a bad credit mortgage broker near me and apply for one.
What is Bad Credit?
You may think you have bad credit because you have been rejected for credit before. But remember, different lenders have different standards for lending money, and many lenders might see you more positively than others. So, in simple words, there is no hard and fast rule for what is bad credit. However, there are specific elements on a credit report that would make lenders think you are a higher risk, such as, missing credit card payments, applying for credit too often, and defaulting on a loan.
How Do 'Bad Credit Mortgages Work?
Bad credit mortgages are similar to regular mortgages, except they are more likely to come with high interest rates and a lower limit on how much you can borrow. Also, in some cases, you may be asked to come up with a larger deposit of at least 20-25% of the value of the property, instead of 5-10%.
The reason behind this is that having a lower credit score can be seen as a high risk by the lender. Basically, the higher your credit score, the better your chances are of getting accepted and getting lower interest rates.
What Does This Mean?
Your monthly repayments contribute to both repaying the money that you have borrowed and paying interest charges.
The total amount you repay is an amalgamation of the mortgage debt and the interest charges attached to the lifetime of the mortgage.
Can I Get a Mortgage With Bad Credit?
When you apply for a mortgage, lenders will go through your credit history to know how well you manage your finances. Also, they will need to see your income, monthly expenditure and savings, what you earn and what you spend. This is to make sure you will be able to pay the monthly repayments, especially if certain things change, such as interest rates going up, or your income going down.
It is definitely possible to get a mortgage with poor credit, but it helps to show yourself in the best possible light. Meaning that you need to take care of your credit history and budget sensibly.
You can follow these steps to make sure you get the mortgage:
Show lenders you are a responsible borrower by making all your regular payments, like utility bills and credit card payments on time and completely.
Review your spending and try to lower the costs where you can, and keep your monthly expenses consistent. Try your best to have money left over at the end of every month.
Try to review your credit report regularly by making sure that it is up-to-date, and that the information on it is specific. And if you do find anything that requires correcting, contact the responsible lender and ask for an amendment. So, if you have a good explanation for past financial difficulties, like redundancy or ill health, then consider adding a note of correction to your report for lenders to see, it will help you with your mortgage.
Only look for a property you can realistically bear, as there are no various mortgages around at 95-100% loan to value.
You might require a guarantor, a parent, or an older relative, to give assurance to lenders that monthly payments will be covered if you can't keep up with them.
How Your Credit Score Can Help You Get a Mortgage?
Before you apply for a mortgage, you should first get an idea of how lenders might see you by checking your credit score.
For instance, lenders like to see an individual who can make each and every monthly repayment on time, and who can take handle of their overall debt. By successfully managing simple credit accounts, such as credit cards, a mobile phone contract, and some household bills, should help your credit score increase over a short period of time.
Though it is important to keep in mind that not every lender uses the exact same factors, and they might score based on different factors.
So, to help put yourself in a better position for lower interest rates and better mortgage conditions, you should first try to improve your credit score. But if you have bad credit, then don't worry because you will still be able to get a mortgage.