Basic Blogging Mistake For Beginners | How Avoid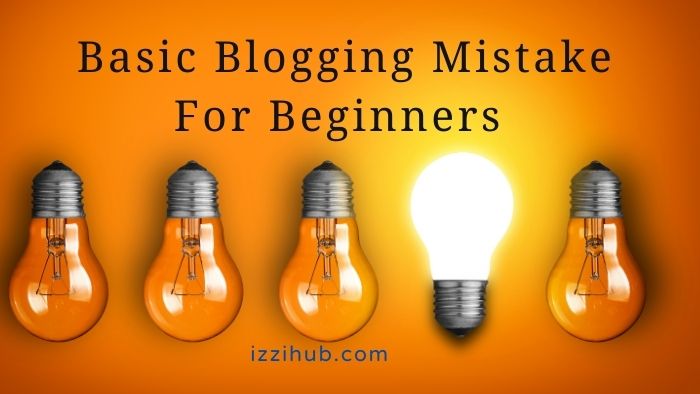 With so many blogs out there it becomes almost impossible to create the one that would stand out of the crowd. Many, especially new, bloggers try to distinguish their blogs by adding new features, new widgets, new plugins and so on. What they usually end up with is a blog that is full of useless plugins, which all together give an impression of a spam blog.
What are the Basic Blogging Mistake For Beginners &  How to Avoid
"Think before you do anything"
This simple rule should be followed not only in the offline world but also in the virtual one. Before you start your blog, you should clarify what kind of blog you aspire to have. Will it be your personal blog, or are you going to sell something? The outcome of this brainstorming should be a core vision of your future dream blog. Once you clarified this stick with it!
With a clear image in your mind, start to search for the template that will supplement the essence of your perfect blog. It is always good to start small and to be minimalist. A clean and simple template is, in most cases, much better than a crowded one. What's more clean templates are in general easier to crawl by Google bots, which will help you to get your blog indexed faster. it should be free with invisible text copy.
Now you have the vision and the template that fits the spirit of your blog. Many bloggers in this stage start to look for all the "must-have" plugins, which should make their blogs outstanding. But you will not go this way…
Keyword Research
Keyword selection which has low competition and great value in sense of click is the main success factor for bloggers.
Create the blogging identity
Instead of spending your energy on plugin research, you will focus on creating your blog identity. This means to create a blog logo and favicon. It is good if you are familiar with Photoshop because you can develop them on your own. Again keep in mind that simple is better.
Now you have the vision, template that supplements your vision and blog identity. It is time for the hard work!
Become the Blogger
Writing is an essential activity that should take you 80% of all the energy dedicated to blog development. You could have a great looking blog but without unique and interesting content it is still just an empty box. To drive the Google bots and subsequently unique traffic you need regular updates. It is ideal to write at least one quality article per day. By the quality article, I mean original text in the length of at least 300 – 400 words which include your keywords, but at the same time, it is simple to read and understand.
Writing should be a habit and at the same time passion for you. Note that the main reason why most of the bloggers fail is that they were not persistent enough. Ethical BUsiness issues may affect it.
Add Plugins
The rest 20% of all your energy dedicated to the blog should be spent on plugin research (implement only several really necessary plugins such as SEO plugin, contact form plugin, social bookmarking plugin and so on), promotion via other forums from your niche, submit quality comments in the blogs from your niche, submit articles to the online authority directories and so on.
It is one year since you started your dream blog. You still write at least one article per day and receive sustainable and growing traffic from the Google. You feel good about yourself because you succeeded. Your blog is popular and respected and that is the best satisfaction.
My name is Peter Mello and I am blogging at Moremoo.com, I write mostly about web development, SEO optimization and online marketing. If you enjoyed my post and you are eager for more, meet me at Moremoo.com. I use Clickbank Wealth Formula to help me to generate cash.