Cash Book Types Single & Double Triple Column | Format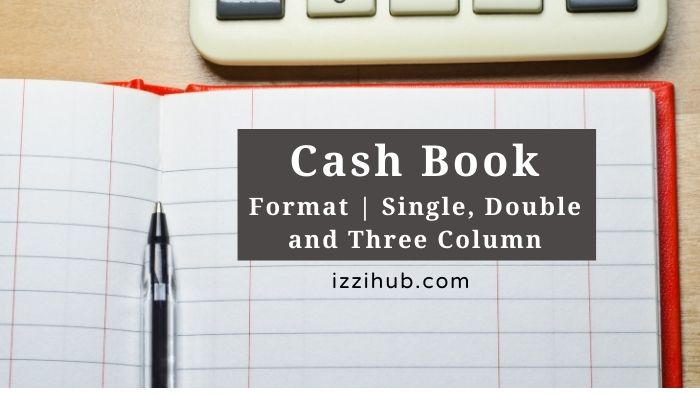 Cashbook is an accounting terminology, it's a book in which all cash transactions are recorded. It shows the cash flow of business, All Receipts and payments are recorded in it. In simple words, you can say the cash book is a cash ledger. Its shape is like a journal but plays a role like Ledger.
What is a Cash Book?
In all type of business organization, at least cash book is prepared. What is Cash; cash is a monetary item, issued by the central government for the buying and selling goods or services.
Note: Cash-book not only contains cash flow related transactions, but also receipts or payments via bank are recorded. You should have knowledge over Accounting Golden Rules.
Just like the daybook, It is the primary and almost compulsory register for maintaining the monetary items transaction records. Finance is the backbone of every business. Accurate and up-to-date recording helps in cash management, observing and maintaining the networking capital of the company.
Difference between Cash Books and Cash Ledger:
There is only a formatting difference between Cashbook and Cash ledger. Features and objective are the same. In the ledger, we do not write the narration and details. So that is why almost every organization does not maintain a separate ledger, but only one cash Book. Its play vital role in Cash Management and one of the main source of Cash flow Statements.
What are the Types of Cash books?
There are mainly three types of Cash books, which are mentioned below.
1. Single Column
2. Double Column
3. Triple column
1. Single Column Cashbooks
In this type, only cash related items are recorded
2. Double Entry Cashbook
In this type of Cash and Bank, transactions are maintained. This is because from average to large business, mostly payments are made via banks for secure and traceable purpose.
3. Triple Entry Cash Book
This kind, one column is added of Discount. Discount allowed comes into Debit side and Discount received into Credit Side.
What are the Features of Cashbook
Cash Book Template Specimen
Date: When the transaction was made.
Description: Brief description related to the purpose of the transaction.
Ledger Folio: Dual Concept, Reference where second account transaction is posted.
Amount: What Amount Paid or receipts.
Voucher: Number: Reference of the invoice, a voucher for tracking details of the transaction.
Get more detail with Golden Rules of accounting with example.