Cashier Job Description Responsibilities, Duties, Types & Qualities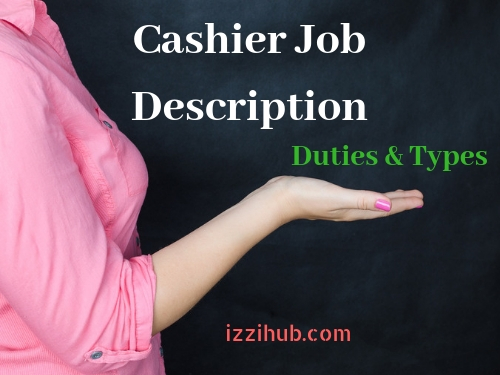 A cashier is a person who deals with buying and selling of cash. There are many organizations likes' banks, schools, shops etc that deal with cash transactions. All these places which are needs cashiers. The cashier is considered the backbone of any business success at every level. Here is a guide of cashier Job Descriptions, Duties and Responsibilities?
Cashier Definition "Cashier works under the supervision of the any assigned administrators which act as a backbone, operator, and receptionist for a school, bank, and shop etc. They give information's to callers and also perform their clerical duties".
What are the Cashier Job Descriptions, Duties and Responsibilities?
Minimum Qualification for Cashier Job Descriptions
High school diploma or equivalent experiences, high school graduate.
One year of office clerical experiences.
Licenses and another requirement.
DOJ and FBI fingerprint clearance.
Negative TB test for 5 years.
Type 45 words per minutes.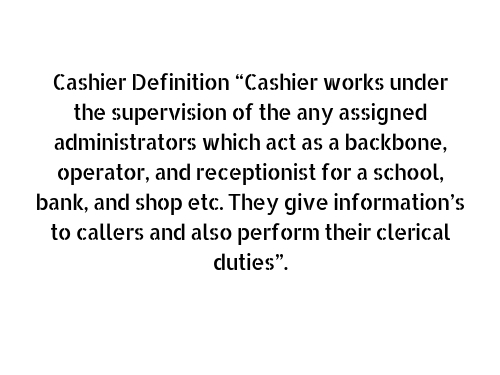 What is the Cashier Job Descriptions:
Cashier's job Descriptions are varying from organization to organization or different from all types of businesses. Any but some common qualities are mentioned below.
Reading and effective communication elements skills.
Basic computer skills such as MS words, MS Excel etc.
Correct English usage, grammar, spelling, punctuation.
Effective record-keeping technique.
Oral and written communications ability.
He should know the general clerical duties.
He should have interpersonal skills likes as patience, courtesy.
He has mathematical skills and the ability to handle transactions quickly and accurately.
He should have the previous in a retail store or as a cashier.
He should have a positive, helpful attitude during dealing with customers.
He should have the ability to speak clearly and to convey toward their customers clearly.
He should have knowledge of register operation such as debit card and credit card.etc.
He should make use of technical and financial skills to effectively manage the cash flow, debit and credit cards, and other funds payment.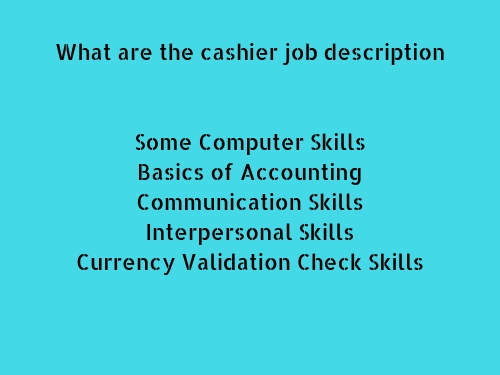 Qualities of Cashier
Cashiers have the ability to perform their routine work under administrative supervision.
He has the ability to maintain the books of accounts related to customer and other dealers.
He should have the ability to take the prints and write the documents.
He should understand the written oral conversation among customers.
He should have knowledge about the procedures, functions, and limitation of their duties assigned.
He should check the daily cash account.
Have good dealing with the communication process.
He should maintain weekly, monthly and annually statement to report the business management.
He must present very well in front of their customers. They must always dress up very neat and clean.
He must find the trust of the business management and customer for business success. Cashiers are dealing with a large amount of cash daily basis. They are trusted to provide a good honest service and they handle cash at the end of the shift.
He needs to perform quickly and accurately when they deal with money. They are very supportive elements in the Cash conversion cycle.
Role of Cashier
Cashiers must have knowledge of the business accounting procedure and banking policies. The cashier should have knowledge of accounting rules and regulations for the maintenance of books of accounts. They must have knowledge of statistical tools, computer skills, and effective communication ability. Cashier into banks helps every customer which in the bank. They solve choirs of all customers easily and provide them support for dealing to effectively with cash. They can help them in performance bank transactions.
Cashing cheques
Checking bank statement
Processing payment
Making a money transfer
Updating detail of customers records
He receives payment from a different electronic mode such as credit card, vouchers, and gift cards.
He provides the new product line to companies after understanding the requirement of customers.
He is responsible to accurately counted the cash and delivered to management.
A cashier has good and effective communication skills. The cashier has good listening skills. They should easily understand the people who belong to the different range and geographical backgrounds. They must have good English speaking skills.
They can easily talk to the public.
The cashier has friendly behaviour with its customers for the purpose of increasing the profit and market share of the business. The cashier is responsible for friendly treatment with their customers to ensure the excellent services of the cashier.
Can understanding and prepare Statement of Cash Flow.
He easily understands the problems of their customers. This responsibility of the cashier helps customers to solve their problems.
What are the different types of Cashier?
There are various types of cashiers who are performing their role at the different level and different natures of the business functions. They control the accounting treatment and business transactions effectively. They have complete information about the inflow and outflow of the cash from the business. They work into different business areas such as Grocery stores, Shopping Malls, Departmental stores, Banks, financial institutions and manufacturing and trade nature boniness etc. There are major different types of cashiers who play their role in a different business.
Roboclerk cashier: cash, check and charge? The cashier must have a cog in the retail machines where they function very slowly and mathematical like a mindless, mechanized part. They are replaced with a report in the near future.
Bad Beggar: cashier should be a bad beggar. They should list up the items and put them effectively into separate bags and also facilitate their customers to put their goods on the buses.
Company spokesperson: This type of cashier is very useful for the company because they communicate effectively with their customers.
Psyched up psycho: These types of a cashier are totally opposite of the Rob clerk. They are apparently very happy. They entertain customers and perform retail services.
Cash creeper: He helps the especially female during shopping. They overcome their load and also support them in caring for their weight. They also manage the books of accounts.
Occasional cashier: This type of cashier is shown when the companies or retail stores have a large number of customers then they perform their role.
Spectacles scanners: This type of cashier is very useful to scan situations. When sellers and customers are dealing with each other.
Cashier Jobs descriptions vary from organization to organizations. So Basic cores Responsibilities are shared here.