Partnership Deed Agreement of firm with Contents, Format and Types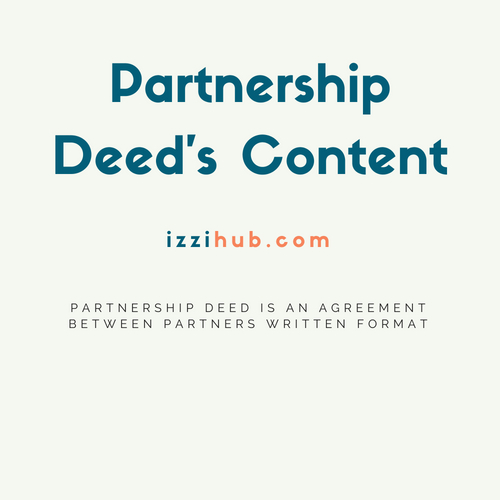 Contents of partnership deed help for the formation and regulation of partnership business. As you know partnership agreement can be made in oral form, but always it is recommended that every agreement should be in written form for better resolving the issue (if any occur in future). The deed should be on the legal papers with proper attestation and be completing the basic requirement of law.
What is Partnership Deed and its Contents
As per

Partnership Act

Partnership deed is compulsory in case of registration of firm. The deed should be dully stamped and sealed documents. Also get signed and attestation from the court. Stamp paper should meet the minimum requirement of the government for validity of it.
Importance of Partnership Agreement
Just like, before starting travel. if every passenger now, what's the purpose of the journey, where they are going, who will lead, where will stay, the duration of it, cost of it, then it will be more effective. Same like that if each and everything defines at the start of the business, then it gives empowerment in business. Which leads towards growth and development with a clear and efficient mind.
Types of Partnership Deed Agreement
There are mainly two types of Partnership Agreement
Oral: In this form, all partners make an agreement with mutual consent but in verbal form instead of written format.
Written: All the partners write down their terms and conditions with the consent of all in a paper. However, for the legal status of the agreement, they need to get the stamp paper with the minimum required value as per the local government. The best practice is to get legal paper ie stamp paper and get signed off all partners with the witness of non-parters.
For the registration of a partnership firm, it is compulsory to follow the law and make the agreement of partnership deed with stamp paper and submit it to the registry.
Basic Contents of Partnership Deed Agreement.
1-Commencing and Operating Date:
In Deed, it should be mentioned when the agreement is being made and the starting date of the partnership. This helps from any legal action before starting date of partnership.
2-Name of Business:
The trade name should be decided by all partners with their consent. The name should be that which is available and not registered by any other. The name should not contradict the business activities. Example Construction business name should not lead to oil business image.
3-Objective and Nature Business:
The Basic objective is to earn profit but how, what kind of business will be doing, Trading, manufacturing, profession and its nature. Also clarify what kind of trading, manufacturing or giving services. The boundary of business should be set first.
4-Liability of the partners
Partners liability is unlimited in a general partnership. however, if it is a limited liability partnership, at least one partners will be liable for all debts as per the partnership act. In-Deed it should be clearly defined about each partner liability status. In the absence of it, it would be assumed all partners are liable.
5-Profit and loss Ratio
The share which partners will get how many shares of profit and loss. it can be as per the ratio of capital investment or mutually agreed shared.
6-Operation and Manufacturing Area,
Where will be head office and manufacturing of goods etc. place, city. and in case of necessary what action will be required. As in the Registered office clause of the memorandum of Association, here Registered office need to be defined for future correspondence.
7-Capital and Financing,
Should every partner invest the finance or someone's skill can be an alternative to capitalism. In the case of finance requirement how capital will be raised and up to what rate of interest.
8-Partners Detail,
How many partners will be, Their name and address, National Identity Number with father name and also describes the types of partners?
9-Partner's Remuneration,
In general cases partners, are not entitled to get the salary, however, with the consent of all partners, the partner can assign extra duty and salary or commission paid for those services.
10-Interest on Capital
It will be paid to any partner or not. That may happen in certain cases, that profit and loss is shared on an equal basis and agreed that if any partner invests more than an equal investment of each partner he or they will get an agreed percentage of interest on it.
11-Partners' Death, Accident, Insolvency,
In case of death or insolvency, what actions will be required. Whether minor is accepted or will not be, and how to deal with an insolvent partner.
12-Any change in partnership:
How to deal with any change in partnership, whether the consent required from all partners or a prescribed number of partners.
13-Bookkeeping and Auditing:
For recording and updating the accounts, which system will be adopted, a single Entry System or a double Entry System. Manual or via software or both. and from where an audit of accounts will be undertaken. So the finance system should be updated and for minimizing the chance of fraud. Books of accounts play a vital role in financial decisions.
14-Insurance help in minimizing the loss.
Whether avail this opportunity or not, if yes then from where and up to what level. Insurance helps in case of loss, It gives support from loss coverage.
15-Dissolution procedure
It should also be prescribed in the deed. If it is a Particular partnership or Joint venture nature, then it will automatically be dissolved at the completion of the project or time.
Contents of partnership deed can be more described in the agreement with the will of partners from avoiding any dispute in future. It can be a simple one or maybe comprehensive, However its better to share rules and regulation at the start of the partnership so each partner can work smoothly for the development of business.