How to Convert Images to Text with Easy Steps: 3 Suggested Tools
The Internet is filled with images and screenshots of posts from social media platforms like Facebook or Twitter. These screenshots usually feature a link that could be useful to visit.
Sometimes, you find a quote in a photo inspiring for your writing. And it genuinely seems annoying when you can't just copy-paste that piece of writing out of the image.
Besides the social media platforms, extracting text from images is a massive problem at workplaces. When you receive photos and screenshots of notices that require editing, it becomes a time-consuming challenge to perform reading and typing manually.
In this article, we have brought a solution to these challenges. Now you can convert any image to text in a few easy steps, no matter if you're using a mobile device or a computer system.
We will also suggest some good OCR tools and how you can use them for image-to-text conversion on various platforms.
Best Tools to Convert Image to Text with Easy Steps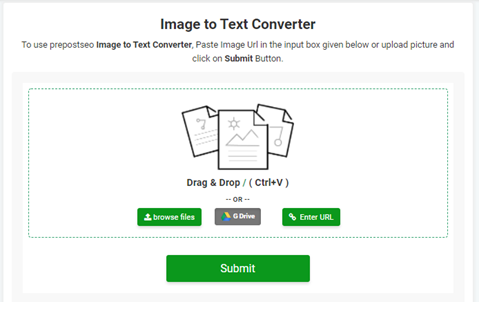 The image-to-text converter is available online and does not require any installation, making things convenient for one. Prepostseo.com offers an image-to-text conversion service for free. No sign-up or payments are required for using this service.
This web-based service works seamlessly with various image formats and digital documents to extract editable text.
Steps to Convert Image
Visit Prepostseo.com and search for the image to text converter tool in the search console.
Once you reach the image to text converter tool, you'll find several options to upload an image.
Directly paste the image into the input box or press the upload button.
Click on the submit button, and within seconds the tool will extract the text from that image.
Features
Low-resolution image support: This image-to-text converter is highly accurate, even with low-quality photos. So, in case your image is not clear enough, the tool would still scan the image.
Free of cost: No trial-based usage or registration conditions are required. Despite the image size or resolution, you can scan as many images as possible with this tool.
Multiple language support: This image-to-text converter supports more than 30 different languages. Before scanning the image, you can select the language featured in the picture for accurate results.
Image uploading integration: With this tool, you can upload images from different sources. It offers support with Google Drive, URL image link posting, and local storage image uploading. You can also directly copy an image from a source and paste it into the input box for scanning.
Downloadable text: Once you have scanned the reader out of an image, you can download it in the form of a text file for easy editing.
Accessible from multiple devices: This tool is also available as a Chrome extension if you want instant access from your browser. You can use this tool conveniently from any device with a web browser.
2.    PDF Converter Pro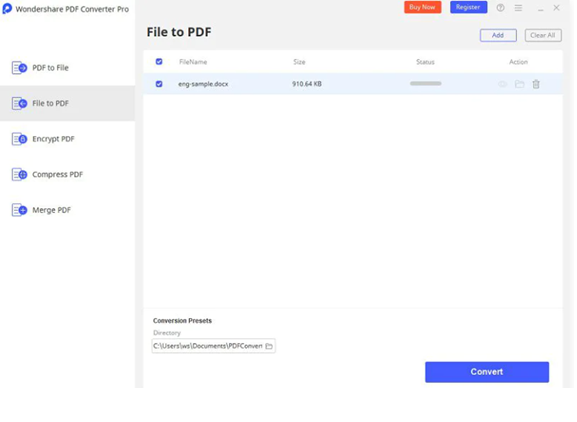 This tool is a desktop-based application that works seamlessly on Microsoft Windows. This tool provides a complete set of options with extensive features to convert any image format or digital document format into plain editable text.
This desktop-based application offers file support with various applications like Excel and Word. The remarkable thing about this tool is that you can convert PDF files into editable text without ruining the paragraph structure and formatting.
Steps to Convert Image
Download the PDF Converter Pro application for your desktop computer.
Add your image by clicking the 'Create PDF' option.
Then you have to enable the OCR settings by choosing the Advanced Settings Here you have to specify your settings for the output file.
You can also select the language for scanning and outputting text. Make sure the language you choose matches the language in the image.
Once you have set all the settings, you'll find a bar at the bottom of the window which says conversion presets. Choose the file size and location in the local storage to save the file, and then click the 'Convert' button.
Features
Merge or compress PDF: If you want to resize your PDF file, this tool can be pretty helpful. It includes straightforward options to make such a conversion.
Supports multiple formats: The conversion console supports various text file formats to save text on your local storage.
Desktop-based application: There is no need to reach an online source or cloud service to use an image to text conversion. You can download this software to convert images to text instantly.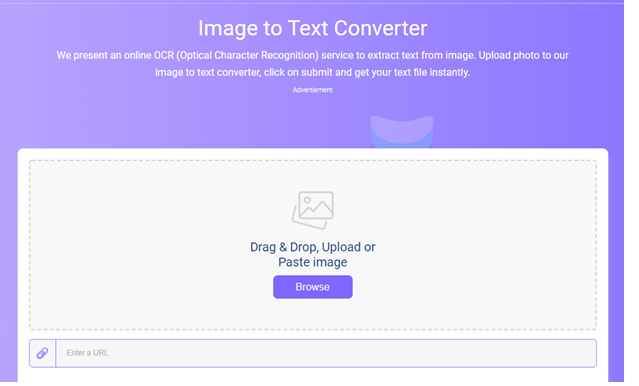 If you're tired of typing text out of images, then it's time to give your eyes and hands a break. Imagetotext.info brings the most accurate and easy-to-use interface for converting images to text instantly. This service is available for both smartphone and desktop devices.
Steps to Convert Image
Visit the imagetotext.info website, and you'll find the input showing image uploading instructions.
Paste the image or go to the 'Browse' option to upload the image file from local storage.
Click on the submit button to begin the scanning process. Within a few seconds, you'll get results.
Download or copy the text from the output box to save it to your device.
Features
Free usage: Freeware service with unlimited access is always convenient for everyone. This tool provides the best services for students, journalists, and writers without limitations.
Extensive language support: This tool works seamlessly in different languages, which can be selected from the drop-down menu on the upper right side of the screen.
Available as a mobile app: info works even better as a mobile app. You can download the application for your Android device and scan a real-time image for text using the camera option.
Conclusion
In this article, we have brought a solution to these challenges. Now you can convert any image to text by cardscanner.co in a few easy steps, no matter if you're using a mobile device or a computer system.
Manually scanning the images for text may cause eye strain when you have to read out every sentence word-by-word. But with the growing capabilities of technology, this job can be done in just a few seconds.
With the help of OCR tools, you can scan digital documents, business cards, reports, or any image with readable text in it, into editable text. These services are free and easy to use for everyone on portable and desktop devices.