Factors for Investment Property Seminars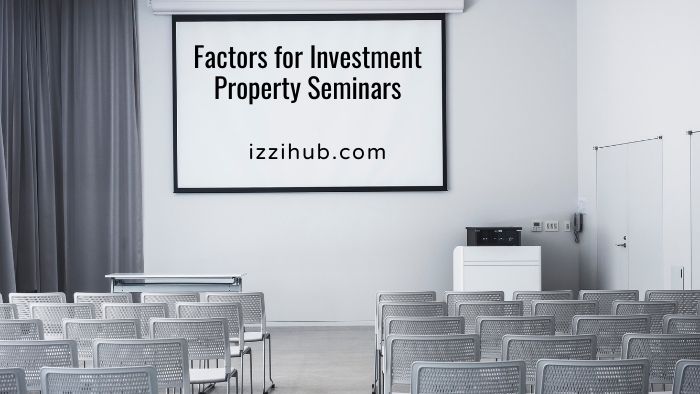 Attending a good property seminar can give you essential insights into the property investment industry and has the potential to provide you with a leg up the industry ladder. But there is a fine line between fruitful seminars and a wasteful journey, and it all comes down to choosing the right investment property seminars.
4 Factors to Take Into Consideration When Choosing the Right Investment Property Seminars
As an inspiring property investor, you need to wade through several property seminar offers and pick one that is right for your need and level of knowledge. Screening and selecting the right seminars can be challenging, especially if you are new in the field and have no idea on which aspect to look for in a seminar. This article will guide you through the four essential factors to look at when choosing the right investment property seminar.
Location Factor for Property Seminars

The best property seminars are held near the vicinity where the property investors plan to invest. While some faraway seminars may be appealing, such seminars might give them little to no help when it comes to investment strategy around their desired location.
Attending a seminar near the property that they plan to invest in will provide them with an opportunity to mingle with other investors living in the area, allowing them to get insightful information about the industry within the location. Also, they can build their network of real estate contacts conveniently.
Speakers Factor for Property Seminars

Another crucial element of an excellent property seminar is an outstanding speaker. Investors need to do a background check on the speakers or company offering the seminar and judge their credibility, reputation, and experience.
Seminars held by successful real estate entrepreneurs or firms will provide the property investors with valuable information and practical strategies to thrive within the industry. The investors can also establish credibility by attending such seminars. Everyone wants to know how to be successful.
Duration Factor for Property Seminars

A seminars' duration is an essential factor in determining whether they are worth the time. It is impossible to become an engineer with a mere four hours of training. Similarly, potential investors cannot become an expert within a short four hours course.
While short seminars may appear informative, they are not long enough for investors to digest the information, especially for beginners. There are plenty of topics to cover in property investment, and it would be impossible for beginner property investors to learn everything in a short amount of time. Also, Keep in mind the elements of the communication process here.
The best property seminars are those that range from one to three days in length. Each day of this seminar builds upon the information taught the previous day.
Freebies Factor for Investment Property Seminars

Aside from conveying a lot of useful information, a good seminar offers other valuable insights and bonuses for its attendees. In property investment seminars, this may come in the form of a connection with investors, legal aids, and contractors.
All of these considerations also apply to online training and webinars. While online seminars do not possess a physical venue, the information that they convey should be as valuable as offline seminars.
If you are a beginner in the property investment industry, you must get your hands on as much education as you can to increase your chance of success within this competitive industry. To choose the right property investment seminar, you need to consider where the seminar will be held, who will be speaking during the workshop, how long the training will last, as well as what other free services it offers.