5 Core Essentials of a Home Business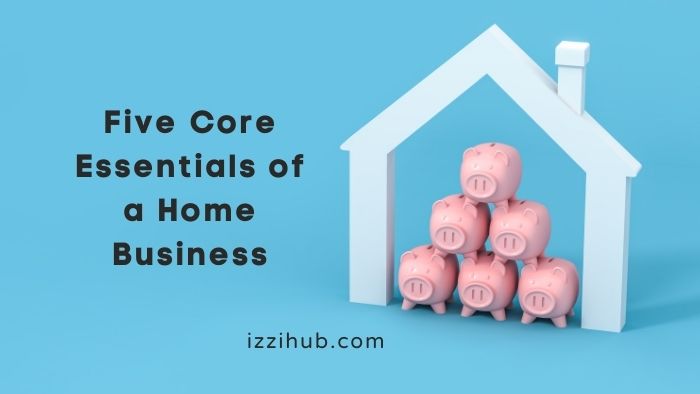 Starting a business from your home fulfils the desire to be your own boss while pairing what you love with the opportunity to make money. You're in complete control. It means most (if not all) aspects of operating the business falls on your shoulders. This can cause quite some stress which is why it may take many attempts at launching to finally get it right.
I tell others to make a plan that covers every detail no matter how insignificant it may seem.
You'll notice gaps when creating this plan. The gaps may reveal a fault in your business strategy and offer. You won't find them all when you're first launching so my other advice is to stick to the core essentials. These provide the foundation for growth and success in a home-based business.
The Essentials of Launching from Home
I would have to say that the following is where you should spend most of your capital, time, and resources building. These create a starting point for all other activities and improvements in these areas.
1. Home Office
The home office should be in a quiet, secluded area of the house.
I can't stress this enough: get a large desk and a very comfortable chair.
Other helpful (and somewhat obvious) items include a printer, dedicated business line, weekly/monthly planner, proper lighting, and even a few pieces of art or plants to make it cozy.
I would also mention the need for home security since this may become your livelihood. I suggest you check ADT prices and compare them to competitors. One unfortunate break-in and theft of your business items could spell doom.
2. Market Research
Market research must be done before any official launch.
This research can be done through the following means:
Local and online surveys
Measuring analytics from paid advertising platforms
Competitor research
Supplier and industry reports
Small market tests
My suggestion would be to scope the competition and find a need they aren't fulfilling. Then take the information and collect data from analytical tools. Source a product or create a teaser service and place it on the market – if there are bites then scale up and then move forward with the launch.
3. Website Development
Website development is easier than ever especially using platforms like WordPress and premium themes or website builders like Shopify or Wix.
Use a guide or workbook to build the site else pass it on to a professional developer or freelancer.
The offers should find their way onto major marketplaces like Amazon, eBay, Etsy, and Walmart
Apply best practices to the creation of the site, search engine optimization, and pair it with your social media efforts. This will create the online foundation to sell your offer while remaining flexible so you may scale the development and efforts later.
4. Networking
I would have to say that networking is more important than advertising and marketing during the early stages of the business launch.
Advertising and marketing take a decent investment of capital and time. It requires a considerable sacrifice in your finances. If you don't understand what you're doing you could waste the budget or completely miss the target demographic.
Networking, on the other hand, puts you in front of others that are influential.
These individuals can help your secure deals and create buzz on their word alone. They also provide direction and support – like a mentor.
5. Local Marketing
I would recommend you keep it local when you do get around to marketing.
Easier to optimize and target
Creates face-to-face connections
Less costly
The local marketing and SEO is quite simple since it's mainly applying business information to the forms.
A business can thrive being local. Own your "backyard" to build capital and data which can be later used to scale and grow on a statewide, countrywide and eventual global scale.
It may take many attempts but it's well worth the success and freedom gained if you're dedicated to launching and building a small business from home.