Invisible Empty Text Character Blank Copy Paste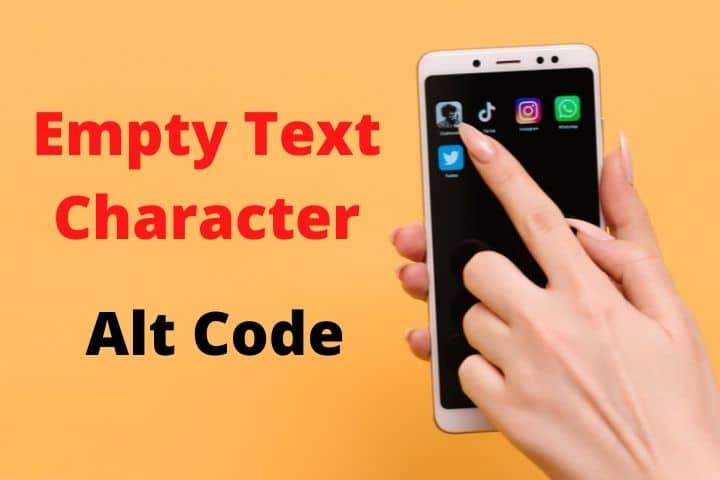 Blank characters, space characters, hidden characters, and space characters. They look like spaces, but they are actually different characters (Unicode). It can be used when you want to express white space without using whitespace.
Let's say your website or application wants to use a blank value, but spaces are not allowed. For example, submit a blank message or set the form to blank. If your application excludes other Unicode characters, the characters on this site may not work. Get empty character detail.
How to send empty text characters at WhatsApp:
METHOD 1 🙁 if you don't have ANY APP)
Press BUtton of Click to Copy and paste at where you want.
⠀
Whatsapp users mostly wish to try new things with Whatsapp. This means that many WhatsApp users want to send blank messages to their friends.
Everyone knows that Whatsapp cannot send empty messages, sending a blank message on Whatsapp sounds cool!! It's funny. So download different types of apps for that. Oh I have a trick for you, you can send the sky
Send a message to a friend or someone without using the application in seconds when you type a message like this; you need to type a special character in the WhatsApp message. So this is what you need to do:-
First, open WhatsApp and go to the message of the friend or user you want to send a blank message to.
The important step here is the type of message.
As shown in the character, enter that character (denoted as a backtick) three times, then leave a space and enter the expressed three times.
The use of this symbol has borne fruit. This is the way to make the last Whatsapp conversation…
METHOD 2:(WITH THE USE OF A SIMPLE APP)
1) First of all, go to the Play Store and download the app called "Empty".
2) After downloading, open you will see,
Now finally click the send button and select the recipient,
That's all, the selected recipient will be sent a blank | empty message…
Method 3: Using a Tool
Sometimes you want to copy or paste the blank spaces.
An invisible text generator can generate invisible characters in one click. Just visit the tool and generate an invisible character. You can use the invisible character for different social media platforms as well as to send empty messages on wats app.
I recommend:-
There are many other applications for this, but they are very small in size, take up less space, are not difficult and easy to use, and you can send a blank message to your friends with the push of a send button. WhatsApp.
Overall, we recommend using # METHOD 1. This is a very simple and fast method without the use of applications, so the choice is up to you. Surprise your friends with this trick and have fun! Get the latest information here. I hope you like it, Stay tuned here for more information. Update these kinds of great tricks and tricks here…
Invisible Blank Text Characters
When posting something to the status of social media applications such as Twitter, Facebook, Instagram, or communication channels such as What's App, Snap Chat, Skype, we don't know the scope of the published material.
The wise man once said:
"We consider visible viewers of published content, but more invisible viewers."
Social media provides access and reach to a wider audience and is exposed to a larger outside world than we think. Currently, a hidden character is a character that sees what is being posted and has contact information, permissions, ping permissions, etc. We don't even know Define Trade ourselves when we reveal these details about ourselves.

Aspects of life with invisible whitespace
An invisible character is a character that has been with us before we knew it. From such contact, there is more than a positive impact.
There is no secret of the place, as information about where we are, what we are doing, and who we are with is overly leaked today. Our privacy is no longer private and people know more about it than we think.
I called from an unknown number. I have a request or message from someone outside my friend's circle. We personally know that this flaw is the longest for social media users. How to be successful in business.
Photos of our homes, selfies and people we meet and know are no longer private. We ourselves have been involved in many of the invisible characters in our daily life.
Copy and paste Unicode blank text characters from known to unknown.
Famous people are those to whom we belong or know about them personally. These can be entities with whom we personally met, worked, saw somewhere, had a common contact person, or were in the circle of contact classes. These are famous people. Now there is another interesting category about unknown or invisible people we know. Let's see who they really are:
With the advent of time and the evolution of people's lifestyles, humans have consistently reformed things and the environment around him. Today, technology has reached endless possibilities and is easier for humankind in every way.
We all have social circles and a social media presence to present our online image to the world. This website currently has contacts we know for contacts we don't know.
Such contacts are contacts with which we interact, exchange experience and work, but which we personally do not know or have not seen. These contacts are called hidden online contacts. For them, we have ideas that are in our hearts.
Who knows the invisible character?
Knowing the invisible letters is much more difficult than we think. While enjoying the benefits of social media, we completely underestimate the audience from the outside world and the unknown. Tracking and identifying invisible characters through posts, profiles, and social media status requires both experience and knowledge. Interpersonal skills help a lot.
Most young social media users and teens are unaware of the impact they have and what kind of personal information they share online. Seniors and those who have faced the disadvantages of invisible incidents tend to pay more attention to information sharing.
Here are a few steps you can take to process information when using social media channels.
Please do not post your location
When you turn on the GPS system on your mobile phone, the system will always be off
Don't post a lot of personal stuff on social media.
Don't talk about your life experience
Never give all contact information
Don't reveal your entire essence
Please limit the circle
Always add limits to shared social media data
Don't share anything about yourself or what you're thinking about the shared mode.
Never share your plans or schedule
Blame those who share information and secrets to avoid misusing the invisible text of your online presence.