Six Incredible Businesses That Started as Side Hustles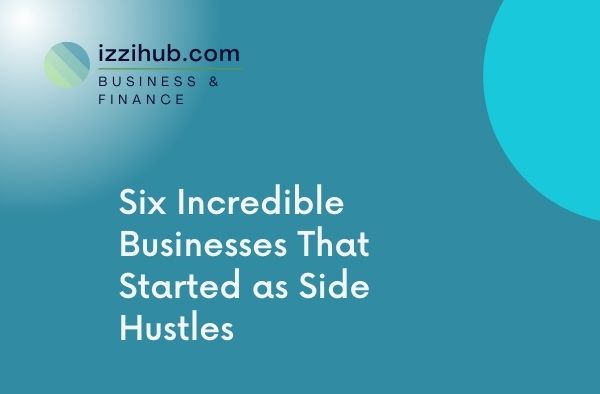 A lot of us would love to launch a side hustle but are worried whether it would succeed or fail. And often, we make excuses such as lack of finances to invest in a side hustle instead of using whatever resources we have.
However, there are several entrepreneurs who became billionaires because they believed their side hustles would succeed. And indeed, they did. Maybe you are aware of some of these six incredible businesses that started as side hustles. Their stories should serve as an inspiration to everyone that wishes to launch a side hustle and make some money.
Who knows? Maybe you could also become successful at your side hustle and become a billionaire in due time.
6 Top Businesses that Began as Side Hustles
In this article, I will be briefly writing about these six incredible businesses from where you can draw inspiration. These are genuine success stories that are also used as glowing examples of entrepreneurship, at some of the top business schools in the world.
Air Asia
Tony Fernandes was working as an executive with Time Warner Co in Kuala Lumpur, Malaysia at the time when Air Asia was launched by a company known as DRB-HICOM, a top company in that East Asian country, owned by the Malaysian government However, Air Asia ran into colossal losses over the years and there were no signs of the airline recovering from its.
In 1993, DRB HICOM sold Air Asia to Tony Fernandes, a Malaysian of Indian origin, who wanted to try his luck at running the airline, despite having no previous experience in the field. He paid only about US$0.27 at the time for the entire airline, complete with its fleet of aircraft and other infrastructure.
Fernandes and his partner, Kamruddin Meranun had bought the airline only to try their luck. However, with astute management and proper scheduling of flights, Air Asia recorded its first profits in the year 2002. After that, the airline became a fulltime profession for Tony Fernandes, its current CEO.
Today, Air Asia has several subsidiaries including Thai Air Asia, Air Asia India, Air Asia Indonesia and Air Asia Philippines to name a few. It is the most successful side-hustle and Air Asia is the single largest budget carrier in the world.
Airbnb
In 2007, two roommates, Brian Chesky and Joe Gebbia who were living in a dorm came up with the idea of putting an air mattress in their room and renting it out to tourists on a bed-n-breakfast basis. They had named the company Airbed & Breakfast. Little did they know that their venture to earn a few Dollars through this side hustle would eventually lead to the founding of Airbnb, the single-largest accommodations and experiences aggregator in the world.
However, the road to this multi-billion Dollar company wasn't easy for Brian Chesky or Joe Gabbia. The partners almost ran into bankruptcy after the accommodations they had booked were getting negligible or no bookings at all.
In 2009, a computer programmer invested $20,000 in their venture, in exchange for stakes in the company. The duo then named their company Airbnb and went on to become the largest of its kind in the world.
Amazon
Jeff Bezos, a Summa Cum Laude in computer science and electrical engineering from Princeton University started something that was totally off his academic qualifications. He began selling used and new books as a side hustle during a trip from Seattle to New York City in 1994.
The first online bookstore operated from his garage in Bellevue, Washington. The success of the bookstore encouraged Jeff Bezos to start selling other merchandise such as CDs and DVDs as well as assorted stuff. He initially wanted to name the company Cadabra, from the word Abracadabra.
However, since Cadabra resembles the Spanish word for a cadaver or a dead body, he was forced to change it to Amazon. The rest is history. Everyone knows that Amazon is the single largest online retailer in the world operating across every continent and offering millions of products.
Apple
Apple was a side hustle for two of its founders, Steve Jobs who did night shifts at gaming hardware company Atari and Steve Wozniak, an engineer at Hewlett Packard.
In their spare time, they began building a computer, as a passion, using discarded spares from Atari and HP. They started the project from their garage. And the first computer was named as Apple-1.
The duo went to Steve Jobs' boss to fund the project, who flatly refused. Undeterred, the two inventors went on to develop an MP3 player, which later became known as the famous iPod and media player software known as iTunes. Encouraged by the success of their two ventures, they invented the cellular phone when the technology became widespread and called it iPhone.
Again, Apple needs no formal introduction to anyone. Today, the company is known for its 5- iPhones, iPads and other hardware as well as their famous Mac operating system.
Facebook
What started as a dorm project by Mark Zuckerberg, Eduardo Saverin, Dustin Moskovitz and Chris Hughes is today the world's largest social media platform, Facebook. In 2003, Zuckerberg and his friends had launched a small website called Facemash.com. that would allow students to communicate with one another. However, his website was soon taken off the Internet.
Undeterred, Zuckerberg and his team decided to work on something new that everyone would like, especially for students at Harvard University, where they studied.  Students at Harvard could use Facebook as early as 2004, with the only requirement being that their email IDs should be from the suffix Harvard.edu.net.
Soon, the popularity of Facebook started spreading to other educational institutes, communities and eventually now, the whole world. Today, Facebook has close to three billion users around the world as is the most favourite social media platform.
Instagram
For Kevin Systrom, Instagram was just a side hustle. In 2009, he was working as a product manager at Nextstop.com. And when he wasn't at work, he would learn how to do coding. His passion for learning coding at nights and weekends led to Systrom launching a mobile check-in app called Burbn.
Later, Systrom quit his job and raised $500,000 from a venture capitalist while hiring co-founder of Instagram, Mike Krieger. In 2010, they launched Instagram officially. The first week saw Instagram gain 100,000 users. In 2012, Facebook bought over the company from Systrom and Krieger.
Today, Instagram is one of the most popular social media apps and has over a billion users worldwide. It is the mainstay for influencers and content marketers around the world.
Wrap Up
These six incredible businesses that started as side hustles should encourage anyone who wants to become an entrepreneur. All it needs is an idea and the will to work on it. There're several more companies that began as simple ventures and today are global giants. However, there's something common between their entrepreneurs. They had a new concept. They were willing to try it out even at the cost of being mocked and never gave up on their dreams. Like every successful entrepreneur, these people also had their own fair share of setbacks. Yet, the stuck to their vision to make their companies incredible giants.
Ends.