Types of Business Entities That Legally Operate In Dubai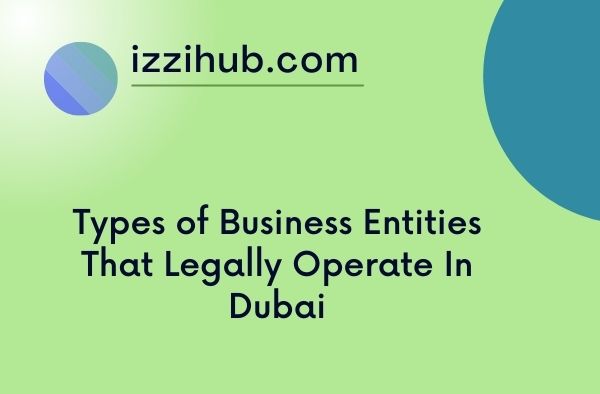 Dubai is the ultimate investment destination for any serious business person. It is the most business-friendly among emirates that make up the UAE. Dubai attracts hordes of foreign investors from across the world. This is because of the various incentives and facilities that make doing business easier.
Another explanation for the flourishing business environment in Dubai is the availability to open various kinds of businesses. The UAE ranks high among the most desired places to work, invest, and live. Each type of business has a unique incorporation structure. Dubai allows the formation of different kinds of businesses to grow and prosper.
Business entities that legally operate in Dubai
Sole proprietorship
This kind of business is owned by one person with control of overall operations. A sole proprietor owns 100 percent shares in the business. A sole proprietorship is the simplest form of business in the UAE . There are no special requirements apart from a residence permit for a foreign citizen. You are responsible for all financial obligations of the business.
Some of the general features of a sole proprietorship include owning an industrial or commercial business 100 percent. For foreigners, you have to appoint a Local Service Agent (LSA) to open the business for you. You can get offshore company formation services agency to guide you through all government-related matters and license requirements of the business. There's no minimum capital requirement to become a sole proprietor.
Partnership company
A partnership business is owned by two or more partners. These share profits and losses depending on an agreed ratio. Partnerships are general and limited. For a limited partnership, UAE nationals have to be general partners. Partners from other nationalities are limited partners.
Share of owners is not restricted in a general or limited partnership.
However, limited partners are restricted from intervening in administrative or management issues of the general partners. This keeps them not liable for business obligations.
Limited Liability Company
A Limited Liability Company (LLC) is the most popular type of business for individuals. Here, the liability of the partners is limited to their investment in the business. Owners of an LLC can do any commercial or industrial activity in the jurisdiction. However, this kind of business can't do consultancy or professional activities apart from banking, insurance, and investment.
You can engage in any commercial or industrial activity with an LLC. keep in mind that UAE nationals have to own 51 percent shares and the other partner (s) own 49 percent. To form an LLC requires an accredited auditor and a maximum of 50 and a minimum of 2 shareholders to invest in the company.
Private shareholding company
Forming this company is through a minimum partnership of about 3 investors. The legal structure is compatible with various industrial and commercial activities apart from professional businesses.
A private shareholding company requires approval from the Ministry of Economy. This type of company has to appoint a manager and can have more than one branch. Each can undertake some of the activities in the business license. A UAE national has to own about 51 percent of the shares in this business.
Public shareholding company
This is a legal entity also called a Public Joint Stock Company. Incorporating this business restricts getting the trade name from any investor partner apart from the shareholder's patent. Partners in this business can engage in commercial, industrial, and professional activities according to appropriate business regulations.
These include appointing not more than 5 managers. The company requires 5 founding members who are UAE nationals to own about 30 to 70 percent of share capital. The company can have many branches with each undertaking any of the activities stipulated in the business license.
Foreign company branch
This type of business is a dedicated outlet for your company in the UAE . Although physically apart, a branch office is not a separate legal entity. Opening a branch office is a means to expand your business reach into the UAE. However, it serves as an operational vessel for establishing a presence in a new area and enhances the prospect of revenue and sales.
Incorporating a branch office requires applying using a local service agent through the Ministry of Economy. Securing approval from relevant authorities is after getting a permit letter regarding your business activity from the ministry. The area economic department has to register your branch office before getting the business license.
Dubai is the world's economic hub today. The nation attracts millions of people to present the market for goods and services. When looking to invest here, you need the services of a reputed agency to guide you through the process. Equally important is to understand the types of business entities legalized to operate here.