Famous Team Work Quotes for Work [2020]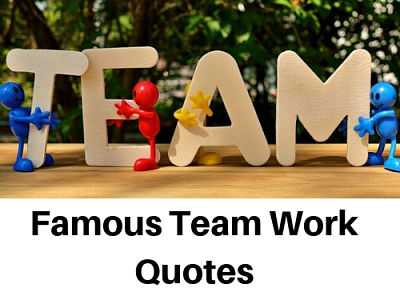 Teamwork quotes are for motivation of team/ employees, so they can perform better. Teamwork is an assignment doing by more than one unit/person. A Golden sentence, one plus one is equal to eleven. Here meaning is to when more than two people work together they produce a great result, because of increasing the strength. They work together for achieving the task or goal. Most organizations arrange events for growing their employees, which helps in getting good profit.
Team work will leads towards high achievement if there is good coordination between employees in any types of Business. This is only when they respect each other and know the value of teamwork.
Motivational Teamwork Quotes are as mention below:
The success of team work, Come together is a beginning, keeping tougher is progress, working together is success. Henry ford.
You can do what I cannot do; I can do what you cannot do. Together we can do great things. Mother Teresa
Team work divides the task and multiple the successes.
Unity is strength, when there is teamwork and collaboration, wonderful things, can be achieved."
People achieve more as a result of working with other than against them. Dr. Allan
Team work is the secret that makes common people to achieve uncommon results.
If team members are confident, they will invest their efforts, energy and time willingly towards your end goal.
Alone we can do so little, tougher we can do so much.
A lot of problems in the world would disappear. If we talked to each other instead talk about each other.
The nice thing about teamwork is that you always have others on your side. Margaret Carty.
When I is replaced with we: even illness become wellness.
Great team work not only increase earning but also helps in grooming ourselves.
When employees respect each other and get along in the workplace, it is amazing how productivity increases, moral increases and employees are more courteous to customer. Maureen Wild
True teams are made when you put aside individual wants for collective good.
To build a strong team, you must see someone else's strength as a complement to your weakness and not a threat to you position or authority. Christine Caine
We all can work, but together we win.