How to be Successful in Business with 3 Steps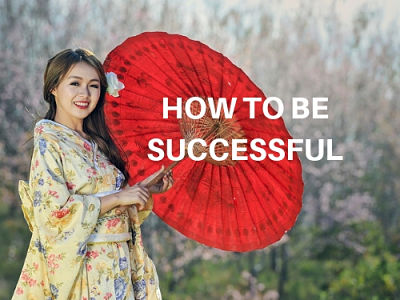 As per Maya Angelou, Success is loving life and daring to live it. Success does not relate to achieving the material or tangible things it may also be in leading in any profession. It has a wide range and varies from person to person. It depends upon you, what will be a satisfactory level of a particular object for getting it. Here I would like to explain to you by giving the example of the race of A Rabbit and Tortoise. The race has three portions
Goal was to win the race
Tortoise's willpower to win the race.
Tortoise consistently walking(Hard Working
How to be Successful in Business
There is a lot of Example of the person in this world who set their goals and become motivational personalities like Bill Gates, Nick Vujicic, Tony Robbins, The purpose of giving example and emotional personalities is only to make sure that Only one personality can make you successful in life that is "You". And same time only you are a hurdle in your success.
The fundamentals are same  for "How to be a successful" in life, business, education or task. That is desire and commitment for the achievement of it.
You're Goal. The question is what you want or what your desire is. Think 100 times before you take a decision, but once that decision is taken, stand by it as one man. Muhammad Ali Jinnah. Keep the following point before setting it.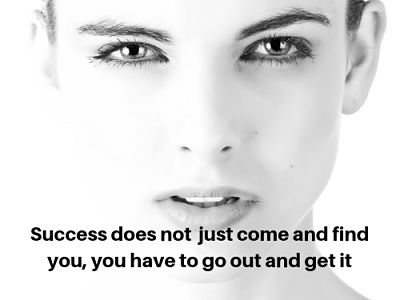 It should be smart.
As per your passion and will motivate you
Set after SWOT analysis
May get the services of counseling for setting goals.
Do not compare yourself with others, Keep your own targets.
Your will power (Core part): The only thing standing between you and your goal is your willpower.
You should have the ability of self-control. Willpower is backbone of the cycle of "how to be successful in life" Without it, you neither stand nor survive. There should not be a word in your diction of Impossible, Keep in mind everything is possible in this world.
Either you are working as an individual or as a team work, goal and commitment should be same. There should not be any type of conflict.
Failure personalities have a list of lame excuses for not getting their results but achiever has willpower that I will. Just recall your past. You will find a lot of assignments that you could complete them but you had not, just due to weak willpower, On the other hand, you will found a list of tasks which was tough but you achieved them because of your willpower.
How to be successful in any Business Organization
Motivate yourself for creating an opportunity instead of waiting for it.
Always focus on those things which you have instead of focusing on what you lost.
Avoid from frustration, Failure is the first step towards success. Analysis of the causes of failure instead of failure results. We always learn from failure instead of success.
Willpower is spiritual power. Read out the motivational stories. Try to meet consistently to motivators.
Failure is not falling down but refusing to get Up. Chines verb

Last step towards achievement. You should be committed to your set goals. Success could not be achieved overnight. For that there should be hardworking, but consistently. A river cuts through rock, not because of its power, but because of its persistence. Jim Watkins. The following points help you in this stage.
Set small sub-goals when you achieved them you will be more motivated
Keep in mind the factor of time management with your hard work. If you manage it your work will be smart and less energy-consuming.
Your positive attitude is an important one with your hardworking. This will increase your strength
Accountability of your work. Is it growing or falling?
Should not be overconfident. Share your work with your seniors or motivational personalities
Getting knowledge
Should not only focus on actions related to your work? Be a social worker and observe others activities, Might possibly get a tip or trick for achieving your goal.
In any kind of business, any level of entrepreneurship, its purely based on your hard-working with a determined task. Once you have decided whats your goal is, you should work hard consistently and with smart work. One day comes when you will succeed.
Conclusion: Decide, Commit, and succeed.
From time immemorial, management has been an integral part of whatever activities that mankind pursues in life. The term "management" derives from the Latin word "manu agree" which means to lead by hand. With sound and effective management, no doubt, organizations can guide employees to productive work. With effective management, managers and supervisors can direct, organize and influence workers to ensure productivity, coordination and profit.
It is the act of getting people together to achieve their desired objectives and goals using their manpower and resources efficiently. Its function comprises planning, staffing, organizing, directing and controlling one or more employees to accomplish its goals. Jumble solver helps with word Solutions.
It is an important tool in almost all areas in society because, with it, you can ensure the smooth operation of whatever undertaking you want to pursue, like associations, financial institutions, schools and companies.
It is considered the backbone of an organization or a company, which guides, controls and supervises all areas of a business enterprise, starting from human resources to production. Lack of efficient and effective management often results in business losses, labour turnover, a decline of sales and business closure.
Because of its importance to the total welfare and operation of companies, stakeholders and business owners hire credible, qualified and efficient managers and supervisors to manage the firm. Business enterprises also provide their employees and executives with ongoing training to further their skills and to keep them abreast with the latest technology and techniques in the market.
Significance of Successful Management to Business companies:
Reduction of cost – with effective management, firms can reduce and can ensure the proper utilization of resources, thereby reducing waste and prevents exploitation of resources. Business enterprises can also identify what resources, raw materials and suppliers are scarce and find alternatives to solve the problem. It also implements specialization of jobs to achieve quality output and increased productivity.
Equilibrium – It enables organizations to be at pace with changing and advancing technology and environment, letting them adjust to the changing needs and demand of societies. It is responsible for the survival and growth of firms.
Achievement of goals – The management team executes, plan and balance manpower and resources to achieve maximum work output, to obtain targets and to prevent delays, losses and low quality of products and services.
Utilization of resources – It plans the maximum and efficient utilization of resources, manpower, skills and knowledge to avoid wastage and to ensure maximum utilization of physical and human resources.
Sound organization – effective and sound management structure prevents overlapping of jobs, establishes effective responsibility and authority between employees and supervisors. It also gives clear jobs description for employees and provides the needed on-the-job training to further the skills of both executives and employees alike.
The prosperity of society – It leads to improvement of the people's standard of living, business profitability, economic improvement and creation of job opportunities. It also generates income for the government.
Increases stability – It helps companies survive market conditions, stays competitive amidst myriads of rivals in the market and enables workers to work with peace of mind.